Our Beginners Program will resume shortly. See our Class Schedule for current classes.
---
The Austin Aikikai Beginners Program is a four-week curriculum designed to give someone new to martial arts and Aikido an overview of basic movements, techniques, and vocabulary. However you can start anytime.
The Beginners Program is led by Vincent Hauser, Yondan and Fukushidoin (fourth degree blackbelt and certified instructor in Aikido).
Please contact the Austin Aikikai Dojo if you are interested or stop by one evening to watch a class, no reservations necessary.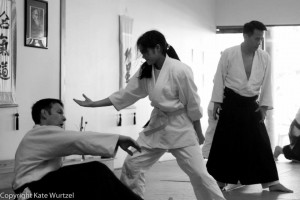 Class Times (to resume shortly)
Mondays and Thursdays from 7:15 pm to 8:15 pm. In addition to the structured beginners program, new students can chose to join regularly scheduled Aikido classes at any time.